With more and more people being self-employed or looking for greater flexibility, it's no wonder that all around the globe, demand for co-working spaces is increasing. Many individuals and corporations are abandoning traditional office workspaces to embrace this arrangement, which is not only inspiring, but also interactive, knowledge-enhancing, and adaptive to different professions and professionals.

Remote working may seem ideal for many, but as it turns out, establishing boundaries between your work and personal life can be challenging when you work in the same place you live.
Co-working spaces are a great solution for those of you who have the flexibility to work from wherever you wish, but don't want to stay at home.
Here at Together Co-Living Melbourne, our cosy and well thought-out co-working space has been designed to help prevent loneliness and make you thrive in a healthier, happier and more productive mindset, while being surrounded by like-minded professionals.
Boasting sleek furniture and practical features such as comfy meeting rooms, our bright co-working area with plenty of natural daylight is located next to the reception and is available to all residents, from budding entrepreneurs to freelancers, business people, tech professionals, and everyone in between, providing a conducive space to hold private meetings, share knowledge, exchange ideas and collaborate on various projects. It's an amazing hub for creativity, innovation and support which gives you the opportunity to widen your professional networks and turn to other residents to seek guidance and help.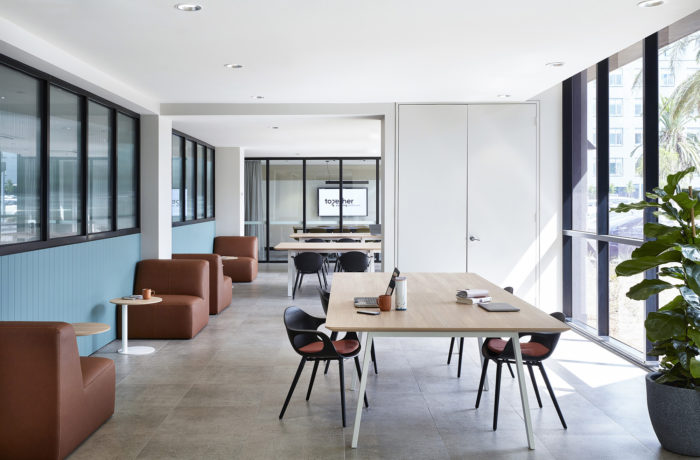 But to achieve this perfect balance, you need to reap the most from the situation and know how to make the space work for your benefit. At Together Co-Living, we want everyone to do their optimal work and enjoy the best our environment has to offer. That's why we've compiled the following tips to help you get there, whether you run your own business or work for a larger one.
First and foremost, keep yourself accountable by setting a routine for yourself and creating an efficient schedule.
Unless you keep yourself accountable, you might not achieve your goals. It is easy to allow the distractions of a social environment like a co-working space to keep you from achieving your goals for the day. Hence, self-discipline is key here. One easy way to keep yourself accountable is to write down your tasks for the day and tick them off as you complete them. Marking completed tasks can provide a boost in morale, motivation, and a sense of accomplishment. If you're a procrastinator, you may consider doing the following:
Breaking your tasks in small, easily achievable milestones.
Setting deadlines to finish the tasks.
Taking a break if stress starts to mount since you do not want to overwork
Creating a To-Do list before you start working and ending your day with a to-do-later list. 
Your productivity will be dependent on you and your self-discipline, which is why it's helpful to set a routine and be ardent about following it. For instance, you could set timers for when you're going to start and finish working. Also, you should be aware of how long you can focus for before needing a break, in order to keep your workday on track. Consistency is key, so think about creating habits such as meeting with a coworker friend over a coffee every day at a certain time. Consider using time management apps; they can play a crucial role in increasing productivity and keeping you on top of your time. Creating a clear work schedule will not only make you more productive, but you can also plan your break times, which brings us to the next point!
Take regular breaks
In such a constructive and creative environment, it is easy to fall into a workaholic mindset and start neglecting your personal health. Remember to take good care of yourself and be well rested as this impacts your attitude towards your work. After all, being productive in a co-working space is not just achieved through constant working, but by taking a break and giving yourself time to rest and recover too! Every once in a while, it's important to reset the brain and recharge your energy by taking a break. This will allow you to actually do tasks more efficiently once you start working again. If you don't take breaks, you'll risk getting tired and overworked, which will make it harder for you to continue working with the same efficiency. But a break could mean different things for different people, so figure out what works best for you, whether it's a quick coffee catchup with someone, practicing deep breathing or simply getting up to stretch and walk around for a few moments. If you mostly work on a computer, getting away from your screen is essential to problem-solving and replenishing your creativity but also resting your eyes. Keep all this in mind and you will surely see an increase in your levels of productivity in our co-working space.
Socialize and collaborate
Socializing in a co-working space can have a number of advantages and be a very enriching experience. Individuals who use co-working spaces often have flair and passion for the work they do. They aim to be more productive and ensure that they use their time effectively and productively. In our community co-working space, you are much more likely to have conversations with individuals who work in entirely different fields, which could provide inspiration or give you an entirely new perspective of looking at your own industry. Here at Together Co-Living, our co-working space encourages collaboration and aims to foster a strong work ethic and boost one's creativity and productivity. So, don't hesitate to put yourself out there and strike up conversations with your desk mates. Invest in the community by taking a genuine interest in what they do. This opens up opportunities to learn from each other's strengths and bounce ideas off, and could potentially land you a collaboration, or your next client, stroke of inspiration, or simply a new friend. We firmly believe that knowing your fellow co-workers helps build a stress-free environment leading to better work life and a more productive time!
Get involved in the community
The great thing about our co-working space is the interactivity and sense of community that comes with it. We are always happy to receive feedback or new ideas, so reach out to us, ask questions, let us know what you are looking for and share your projects! Our friendly team will be glad to listen to you and help you put a solution together or introduce you to people who can help you professionally.
Leverage our communication tools such as the G app when you need help with anything.
Don't forget to participate in the relevant events and social gatherings that we regularly organize. From workshops to guest talks and special networking events, we are all about giving you opportunities to mingle and get the best out of your time here. Don't be afraid to take initiative and volunteer to run a workshop in your own area of expertise, or suggest any other activity that you would be interested in. We'll help you make it happen.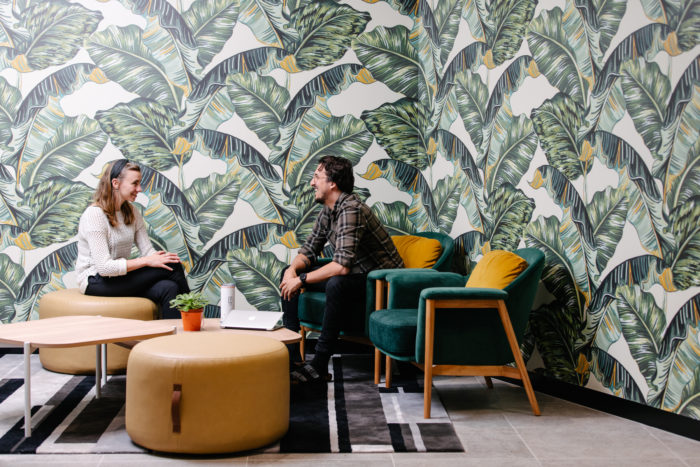 Get the right gear
Aside from being in the right mindset, it's also important to be equipped with the right gear to be at your most productive in our co-working space. It can be hard to concentrate on your work when there are interesting conversations and noise distractions happening all around. If you are easily distracted by noise, you might want to invest in some good noise-canceling headphones. Having headphones on is basically a sign that you don't want to be disturbed. You should also consider having a spare set of all the cables, chargers, or cords you need for your electronics, they always come in handy.
Take advantage of the offerings & facilities that are at your disposal
Optimizing your co-working experience is also about making full use of the resources that are available to you. Our co-working space provides a number of solutions to help you work your best, such as high-speed WiFi, meeting rooms, whiteboards, multiple plug points, smart TV screens that you can easily connect to from your laptop, and even a barista just a couple of metres away, who can keep you going with tasty coffee. So be sure to make the most of whatever tools and resources are at your disposal to continuously maintain and optimize productivity.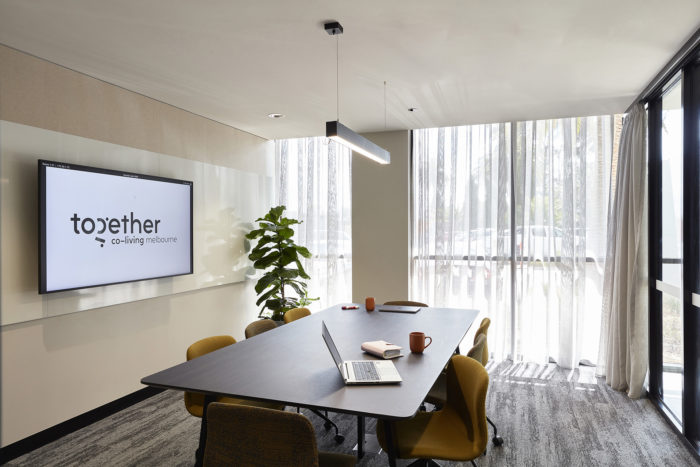 Be mindful of others
Some of the key principles for navigating well in a co-working space are the same principles that can help you navigate well through life. This includes things like cleaning up after yourself and making sure you are not distracting others. After all, there is nothing more demotivating than having to work in an untidy, unorganized space. A clean, open space is an inviting space where you will want to work. So be considerate of this and remember that it is a shared space that everyone should enjoy.
Experiment with different spots within the space
One of the best parts of working in a shared space is your ability to choose your own work environment. Try out different areas in our co-working space and see which one makes you feel most comfortable.
Each nook and corner has its own feel, vibe, and lighting. Don't hesitate to switch it up throughout the day and make sure you always have a comfortable place to work, whether that means sitting at a communal desk, in a couch, in a lounge chair or even outside or at our café and restaurant, The Yard Eatery. There's likely an area that will make you feel right at home and get your creative juices flowing!
Those of you who are not staying at Together Co-Living but are looking for a great co-working space in Melbourne can also enjoy our facilities. Just get your hands on our membership vouchers or daily passes to gain access to our co-working space, pool, and events. Find out more here.